Good exposure to light and a beautiful view outside the window
When choosing sliding balcony doors, we primarily focus on technical issues. Thanks to the sliding systems, the doors can be opened and closed easily, without applying much force. The sliding systems also have other advantages. They provide good light and a beautiful view outside the window.
Modern construction is moving away from installing traditional balcony doors in favor of sliding patio doors. One of the biggest advantages of installing sliding doors as an alternative to classic ones is the great space savings.
The systems make optimal use of the available space. Opening a sliding door does not require space inside the room so the saved space can be arranged in a different way, tailored to the needs of the residents. The opening technology of sliding systems also makes it easier to go outside, to the terrace or balcony. This solution is helpful when arranging apartments for people with disabilities. The use of sliding systems guarantees perfect daylight and optical enlargement of space.
The sliding systems are a perfect solution for a patio door. They can provide a beautiful view of the garden, act as a door to a winter garden, etc. In addition, if used on the sunny side, the sliding windows will provide extra heat in the house.
Advantages of sliding systems:
multifunctionality – they can be used in apartments, houses, small and large rooms, bathrooms, and offices;
space saving;
safety – no slamming caused by drafts and no need to lock the sash;
customizability – sliding doors can be made to order, in a variety of sizes and with many installation options.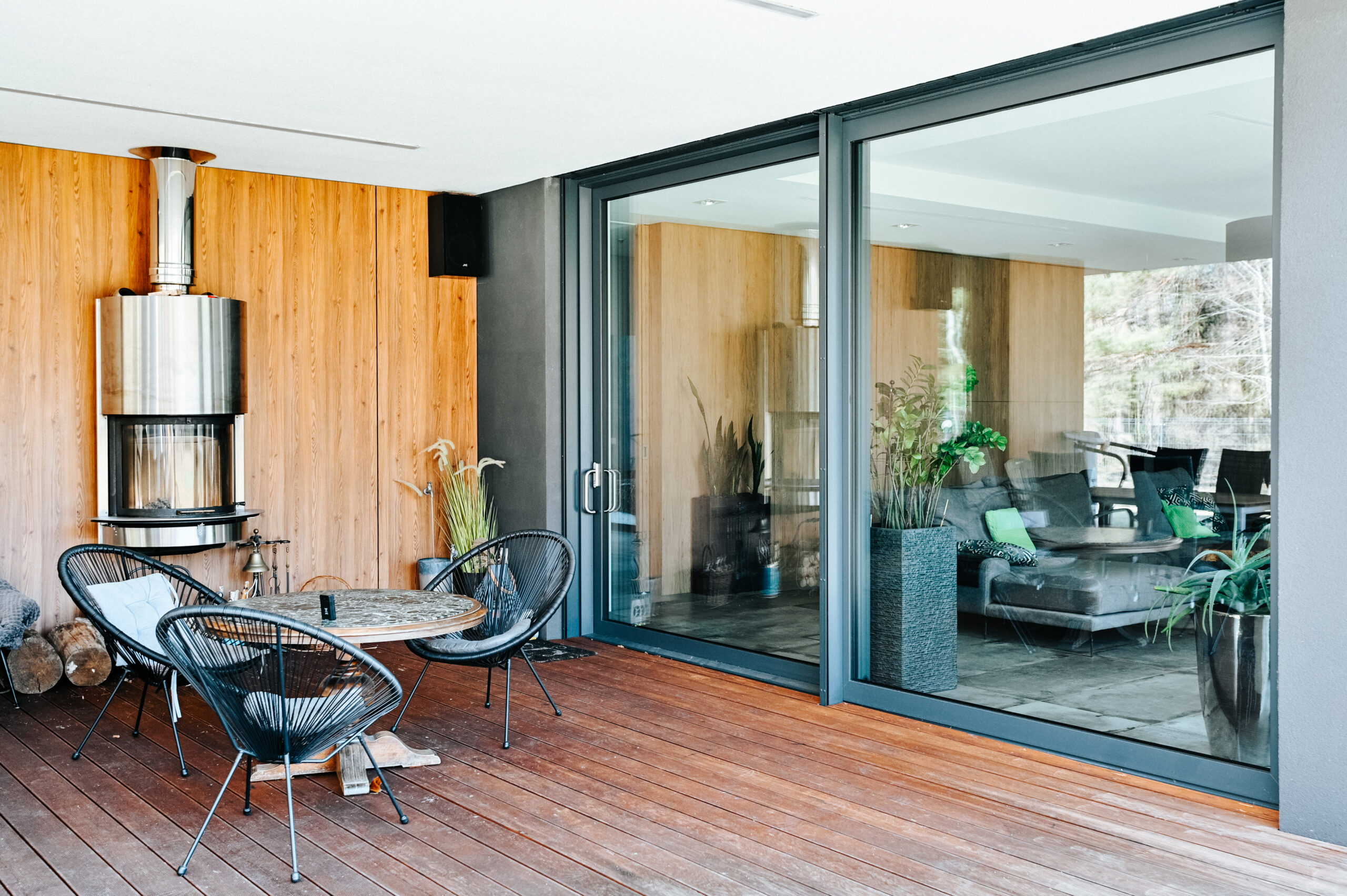 Types of sliding systems
HS is a modern lift-and-slide door for the development of large areas. This solution gives the effect of a glass wall. It provides spacious access to the terrace and a view of the garden. The advantages of this system include optimal thermal and acoustic insulation, profile durability and stability, and noiseless operation when sliding the leaf. In short, an HS door means big glazing and a panoramic view!
An accordion door is characterized by diversity, noiseless operation, tightness, and transparency. It consists of two to six leaves that can slide symmetrically to both sides or entirely to one side. Special rollers guarantee smooth and easy operation. Accordion doors allow a larger clear opening than other sliding systems. An accordion door, as a single window and door system, makes it possible to achieve an opening width of 8 to 10 meters.
A tilt-and-slide door system is a solution used to make windows and balcony doors. In this system, the active leaf can be slightly tilted or slid, which allows for optimal use of the room space and provides more light in the interior.